Infotop Solutions is a leading graphic design company in India, specializing in providing top-notch graphic design services. With a team of highly skilled and creative designers, we cater to the diverse design needs of businesses across various industries. 
As a trusted graphic design company, we offer a comprehensive range of design solutions to help businesses establish a strong visual identity and communicate their brand message effectively. Our services include logo design, branding and corporate identity design, packaging design, brochure and flyer design, website design, social media graphics, and much more.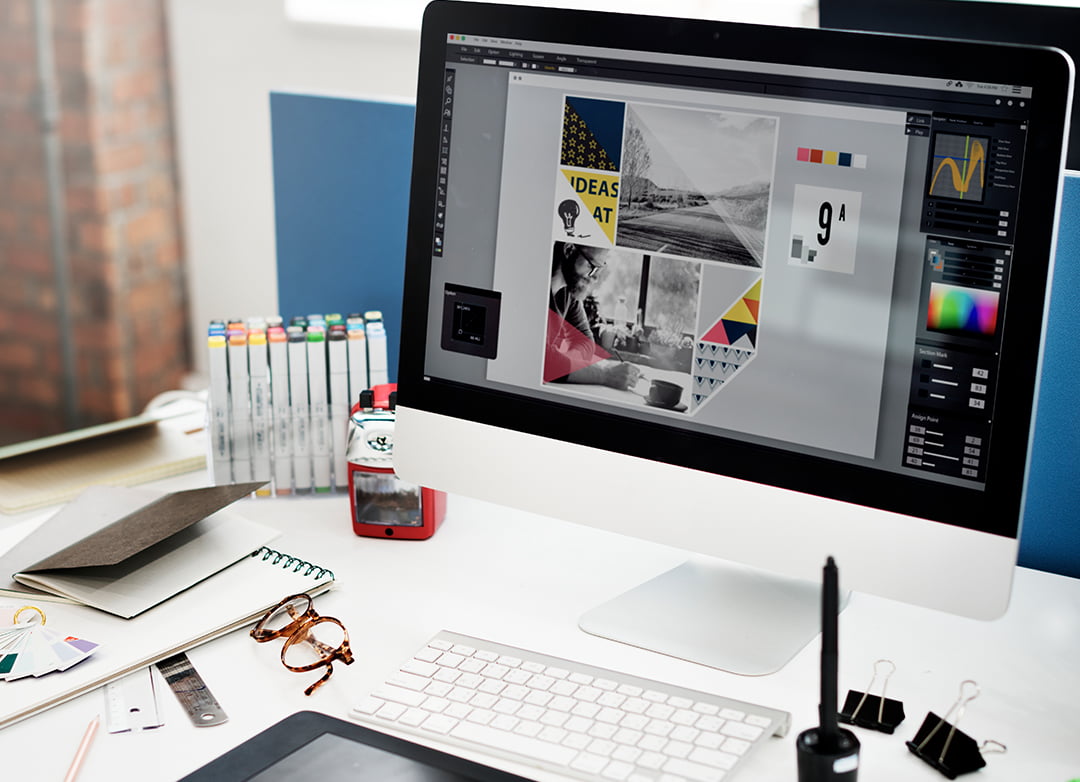 What Sets Infotop Solutions Apart as a Graphic Design Company in India?
Infotop Solutions stands out in Graphic Design Services for several key reasons:
We have a team of highly skilled and experienced graphic designers who possess a keen eye for aesthetics and a passion for creativity. We are adept at translating client's ideas and brand identities into visually stunning designs that make a lasting impact.
We understand the importance of user experience in design. We prioritize creating designs that not only look visually appealing but also enhance the usability and functionality of websites. By focusing on the end-users' needs and preferences, we ensure that your designs resonate with the target audience. Discover how our user-centric approach sets us apart in the graphic design industry in India.
We recognize that each client has unique requirements and goals. We take a personalized approach to graphic design, working closely with clients to understand their specific needs and tailoring solutions accordingly. This allows us to create designs that align with the clients' brand identity and effectively communicate their message.
We keep up with the latest trends and technologies in graphic design. Our designers are proficient in using industry-standard software tools and techniques to create high-quality designs. We stay updated with emerging design practices and utilize them to deliver cutting-edge solutions to our clients.
We value punctuality and understand the importance of meeting deadlines. We have established efficient project management processes to ensure that projects are completed within the agreed-upon timeframe without compromising on the quality of deliverables.
We take pride in building long-term relationships with our clients. We prioritize open communication, actively involving clients throughout the design process, and seeking their feedback and inputs. By providing exceptional customer service and delivering results that exceed expectations, we aim to achieve client satisfaction and establish trust with our top-notch graphic design services in India.
Collaborate with Us for Expert Graphic Design Services!
At Infotop Solutions, we are committed to delivering high-quality design solutions tailored to meet your specific needs. Our team of skilled graphic designers excels in creating visually captivating designs that effectively communicate your brand message and engage your target audience. 
To initiate the collaboration process, we would be delighted to learn more about your requirements and objectives. Please provide us with detailed information about your project, including any specific design preferences, branding guidelines, target audience, and desired deliverables. To move forward with the collaboration, please share your contact information and preferred method of communication.
Our collaborative approach ensures that we involve you throughout the design process, seeking your feedback and inputs at every stage. This allows us to create designs that align with your vision and meet your expectations. Our team will reach out to you promptly to discuss further details, project timelines, and any other relevant information. So, Be ready to experience excellence in graphic design services with Infotop Solutions, your trusted partner in India.