At Infotop Solutions, we take immense pride in being a leading provider of top-notch Android app development services in India. Our expert team of skilled developers is dedicated to crafting innovative and user-friendly applications that cater to your unique business needs.
With a profound understanding of the ever-evolving Android ecosystem, we leverage cutting-edge technologies and industry best practices to deliver robust, scalable, and feature-rich mobile applications. Whether you are a startup, SME, or enterprise, our tailored solutions ensure a seamless user experience and drive remarkable business growth.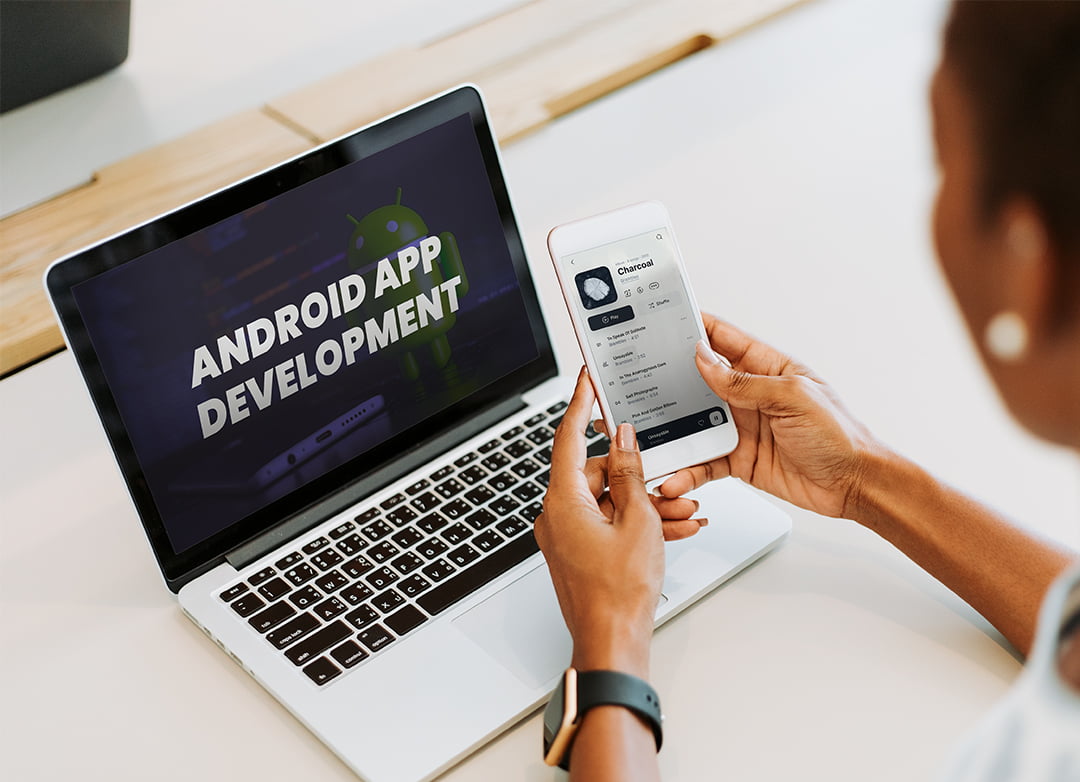 What Sets Infotop Solutions Apart in Android App Development Services?
Infotop Solutions stands out as a premier Android app development company by offering exceptional services that align with the latest industry trends and client expectations. Here are the major six trending points that set us apart:

Expert Team of Skilled Developers
Our dedicated team of Android app developers possesses a wealth of experience and technical expertise. They stay up-to-date with the latest trends, tools, and technologies, ensuring that your app is built using the most cutting-edge solutions.

User-Centric Design Approach
We prioritize user experience (UX) and design interfaces that are intuitive, visually appealing, and easy to navigate. By focusing on user-centric design principles, we ensure your app engages and retains users, leading to higher satisfaction and increased conversions.

Agile Development Methodology
Embracing the Agile approach, we break down the app development process into iterative sprints, allowing for flexibility, faster deployment, and constant collaboration with clients. This ensures that your feedback is incorporated throughout the development lifecycle.

Scalable and Future-Proof Solutions
We design apps with scalability in mind, enabling them to handle increased user demand and adapt to evolving business needs. Our future-proof solutions ensure your app remains relevant and functional in the long run, minimizing the need for frequent updates.
Security is a top priority at Infotop Solutions. We implement robust security measures to safeguard your app and its users' data from potential threats, providing a safe and secure environment for your users to interact with your application.

Comprehensive Testing and Quality Assurance
Before deployment, our apps undergo rigorous testing and quality assurance processes. We conduct various testing methodologies, including functional, usability, performance, and security testing, to ensure that your app meets the highest quality standards.
Collaborate with Us for Expert Android App Development Services!
We are thrilled to collaborate with you and bring your vision to life through our expert Android app development services. Our team of skilled developers, designers, and project managers is eager to work closely with you to create a cutting-edge and user-friendly mobile application that perfectly aligns with your business objectives.
With a focus on innovation, quality, and timely delivery, we are committed to providing you with a seamless development experience. From concept to deployment, we will keep you involved at every stage, incorporating your valuable feedback and ideas to ensure the final product exceeds your expectations.
At Infotop Solutions, we believe in building strong and enduring partnerships. Our mission is to empower your business with a powerful mobile presence that drives success and customer satisfaction. Let's embark on this exciting journey together! To get started, please contact us. We look forward to discussing your project and providing you with the best Android app development solutions tailored to your needs.