The first look of your website really matters in today's fast-changing digital world. Businesses are constantly competing online, and users have many options at their fingertips. People have become very selective about the websites they choose to engage with. That's where the design of your homepage becomes incredibly important in the world of creative digital marketing services. It's all about capturing the attention of your audience and building trust.
This article explores the mix of creativity and strategy needed to create a homepage that not only grabs visitors' attention but also turns them into loyal customers.
Designing Your Homepage: The Essential Element for Success in the Digital World.
A website is like the heart of all your online marketing efforts. It's not just a bunch of web pages; it's a powerful online platform all on its own. Your website can do a lot of things, especially when it comes to running different online marketing campaigns. So, it's a big deal for businesses.
But here's the catch: how effective your website is depends on a few things. It should be crystal clear, memorable, and easy for people to understand what your brand, product, or service is all about. It needs to load quickly, work well on mobile phones, and be super easy for folks to use.
In the world of digital marketing, having a strong online presence is a big deal. And your website is like the superhero tool for that. It's the way you connect with possible customers, get leads, and, in the end, make more money.
Transform Your Business with Cutting-Edge Digital Marketing Solutions
In today's online world, digital marketing services are like the secret sauce that helps businesses not just survive but thrive. Think of them as the toolbox filled with various tools and tricks. It includes things like making your website more Google-friendly (SEO), putting up ads you only pay for when they work (PPC), being social on social media (social media marketing), creating valuable content, sending out emails, and a bunch of other clever moves. All of this combined helps businesses show up better online, connect with the folks they want to reach, and sell their products or services. In simple terms, digital marketing services are what make a business shine in the online arena.
Why a Well-Designed Homepage Matters in Making Digital Marketing Work?
The importance of having a well-designed homepage cannot be overstated. It serves as the first thing most people see when they visit your website, making it crucial for getting the most out of your digital marketing efforts.
1. Efficient CTA Techniques
Your website's homepage should be carefully designed with a clear purpose in mind. It should guide visitors toward specific actions that align with your business goals. A well-designed and prominently placed 'Call to Action' (CTA) button is crucial for achieving this goal.
Whether you want visitors to sign up for a newsletter, request a quote, or make a purchase, a carefully crafted CTA can significantly impact your conversion rate. It provides visitors with a clear and attractive way to interact with your digital marketing services, turning them from casual browsers into active clients or customers.
2. Design-Based Branding
Creating a great homepage isn't just about looks; it's also about showing your brand's personality. When you use the right design elements, colors, and images that match your brand's values and message, it makes your brand look consistent and trustworthy. This, in turn, builds confidence with your website visitors, showing them that your brand is dependable and worth their trust.
3. An SEO-Optimized Homepage
The way your homepage looks has a big impact on how your website appears and how easily people can find it through search engines. If you have a well-organized homepage, with the right keywords in the right places, and good, relevant content, it can make a big difference in how high your website shows up in search engine results. This is especially important if you offer professional SEO services, because it can help more people find your site when they're looking for the kinds of services you provide. When your website is near the top of search results, it's more likely that people who are searching for what you offer will come across it.
4. Immediate Visual Effect
What really catches the eye of people visiting a website is how the homepage looks. Studies have shown that our brains process pictures and visuals much faster than written words, and this highlights how important it is to have striking images. A homepage that's well-designed and filled with captivating graphics and pictures can immediately grab a visitor's attention. This makes them curious and more likely to explore further. This first impression is super important for keeping potential customers interested and setting the mood for their whole experience on your website.
5. Mobile-friendly Layout
Adapting to the ever-changing digital world is vital. One crucial part of this is making sure that your website's front page works well and looks good on mobile devices. Nowadays, most people use their mobile phones to access the internet. So, when folks visit your site on their phones, they expect it to work smoothly and be enjoyable. Having a responsive design for your homepage means that your site will automatically adjust to different screen sizes, including smartphones and tablets. Additionally, it's important to know that having a mobile-friendly site can significantly improve your ranking on search engines like Google, as they give preference to sites that work well on mobile devices.
6. Quick Speed of Loading
Making sure your web pages load quickly is a top priority for businesses that want to provide a smooth user experience. Speed is especially critical for homepage performance because it can either attract or frustrate visitors, depending on how fast it loads. If your pages are slow to load, you run the risk of driving potential customers away and undermining your digital marketing efforts. Therefore, it's essential to optimize your homepage's performance to ensure fast loading times. This is crucial for keeping users engaged and achieving your digital marketing objectives.
7. Getting Around with Ease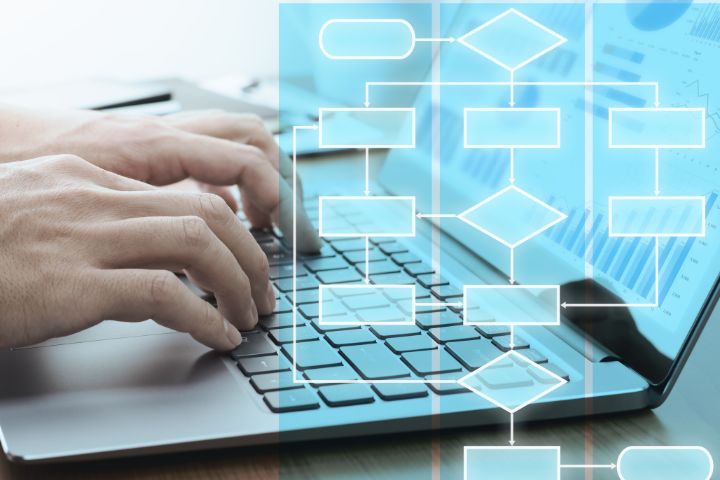 Creating a great user experience boils down to blending an attractive homepage design with easy-to-use navigation. Think of the menu as a friendly guide for visitors, making it simple for them to find what they're looking for. When users can easily get the information or services they want, they'll be happier and more likely to spend time on your website. A well-organized homepage is crucial for providing this user-friendly experience, ensuring that users can access your digital marketing services or products without any frustrating obstacles.
Your Digital Adventure Begins Here
Are you searching for a reliable
software development company in India
to help you reach new heights in your digital marketing endeavors? Let us guide you in transforming your website's initial impression into a lasting and meaningful connection with your target audience. The experience is not merely about making a statement but forging relationships and achieving online success. Grab this golden opportunity to reshape and redefine your digital presence. Contact us today, and let's work together to reshape your digital landscape, propelling your business toward lasting success. Your digital journey begins here with the top software development company in India.